Scores of demonstrators gather outside Chilcot inquiry as organisers expect numbers to build throughout the day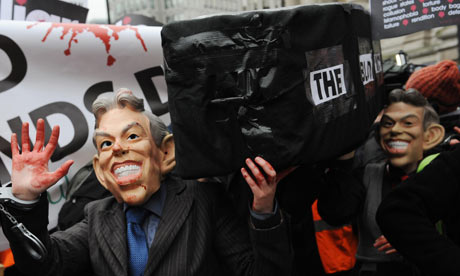 Demonstrators protest outside the QEII Centre in London, where Tony Blair is due to give evidence. Photograph: Stefan Rousseau/PA
Hundreds of anti-war campaigners are protesting outside the Chilcot inquiry today as Tony Blair gives evidence on the invasion of Iraq.
Demonstrators shouting slogans including, "Jail Tony", and "Blair lied – thousands died", gathered outside the Queen Elizabeth II Conference Centre in Westminster from around 8am, with numbers expected to build through the day.
Talks between campaigners from the Stop the War Coalition and the Campaign for Nuclear Disarmament (CND), who are organising the event, and the Metropolitan police, broke down earlier this week because of a dispute over where the demonstration would take place.
Activists had hoped to gather in front of the centre, where previous demonstrations have occurred. They were supported by the police, which said such a protest would be "manageable".
However, the area is private land and centre officials, who manage the space on behalf of the Communities and Local Government Department, objected to the plan.
The centre's chief executive, Ernest Vincent, said in a letter to protesters that the demonstration was "not appropriate on this occasion", in part because other clients were using the facilities.
Superintendent David Hartshorn, from the Met's public order unit, CO11, told protesters he was "unable to give authority" to their proposed protest site because it was private land.
He said he was reluctantly "imposing conditions", including that they should gather at Storey's Gate, a street adjacent to the centre. If the space proves too small, activists may be moved to Broad Sanctuary, a nearby road.
Protest organisers were talking up the prospects of a high turnout, saying groups were travelling from Scotland, Portsmouth, Colchester and Cambridge for what could be one of the last major opportunities to voice opposition to the Iraq war.
"For a weekday, this is quite a serious mobilisation," said Chris Nineham, the chief steward for today's protest. He said the proposed protest site remained "unacceptable" to demonstrators.
He and other organisers said they expected the crowd to build towards the end of the afternoon, when the session ended and Blair left the building.
Protesters may seek to ignore the protest conditions and gain access to the centre's grounds, where they will face conference centre security.
"I think [police] are going to corral people into the side streets," said organiser Andrew Burgin. "I think the aim is to get Tony Blair in, in full view of the cameras, without demonstrators being there. I'm sure that Blair's security will be insisting that nobody is within throwing distance.
"I don't know how they'll sweep [Blair] in. I can't imagine he'll want to go around the back. He'll want to go through the front door, like an ordinary person."