[The man was an invalid, confined to either bed or wheelchair, yet he is accused of being behind a  gang murder by stabbing of Tajikistan's top intelligence officer.  After his murder at 3 a.m., either by bomb, or by an armed assault, word spread like wildfire across the Gorno-Badakhshan Autonomous Region.  By morning, a flash rally called for Khorog had gathered together over 3,000 supporters.  Shortly thereafter, either the protesters came under military assault, or government troops fired on the crowd to stop the takeover of the local government administration building, depending upon which report is true (SEE:Tajikistan: In Khorog rally to protest against the killing I.Imomnazarova ).  After the firing, two thousand of the protesters moved the rally to Imomnazarov's home, where they are still assembled, I assume.  This really could be the opening salvos in a second Tajik civil war.]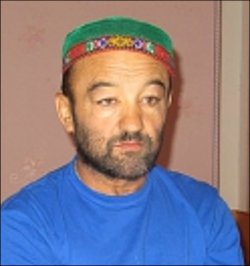 Imomnazar Imomnazarov
On the night of August 22, 2012 at his home in Khorog ( Tajikistan ) was killed Imomnazar Imomnazarov (Imumnazarov) – one of the suspects in the murder of the general intelligence Abdullo Nazarov, reports Gazeta . Recall that the desire to find and arrest the killers of General was announced as the official pretext for military special operations of government troops in Khorog. After several days of fighting was reported that the militants began to surrender their weapons, the situation returned to normal.Imomnazarov was one of the informal leaders of the Gorno-Badakhshan Autonomous Region. Tajik Prosecutor General's Office earlier accusedImomnazarova (as well as three other accused in the murder of Nazarov: Tolib Aembekova, Mamadbokira Mamadbokirova and Yodgorov Mahmadaslamova) in the establishment of illegal armed groups that are "in the period from 2000 to 2012, gathered around him and giving young people made ​​a number of serious and very the number of serious crimes of banditry, murder, assault, riot, smuggling and trafficking of tobacco, armed resistance to state bodies, embezzlement, issued as a loan, tax evasion and other crimes. Overall, during this period were over 20 crimes committed directly by them or members of their armed groups. However, the actual number of crimes committed by them even more, but for fear of victims do not report them to law enforcement agencies and these crimes were not registered, "- said in a press release from the prosecutor's office. These gangs, allegedly "engaged in illicit trafficking and smuggling of narcotics, gemstones, human trafficking and protection of criminals," put up armed resistance to public authorities and law enforcement agencies.According to special services of Tajikistan, Imomnazarov was associated with criminal groups in the CIS countries, including Russia and Kyrgyzstan, as well as in Iran, UAE, UK.
According to one version, the attack on the house Imomnazarova was committed by a group of armed men late at night. In a firefight killed himself Imomnazarov, injured his younger brother and other people in the home. Asia Plus said that all delivered to the regional hospital. Who carried out the attack is still unknown.
According to another version, voiced by RIAN , Imomnazarov killed in an explosion at his home. A source in the law enforcement agencies of Tajikistan said that "At 3 o'clock Wednesday night (0200 GMT) at his home, an explosion occurred, resulting in Imomnazarov was killed and his brother was seriously injured, while the nature and type of explosive device is not installed." By the explosion and death Imomnazarova criminal case under investigation. The source also said that we consider two versions of the explosion and the death of home Imomnazarova – gangsters and suicide.
A couple of hours before the information leader of the Tajik opposition movement "Vatandor" Dodojon Atovulloyev said on his page on Facebook , which, according to its source, the government will work "on the two" versions ": dismantling the Afghan drug lords or suicide."
Imomnazarov in 1994, during the Civil War, was shot in the spine, which is why he could not walk, was invalid of the first group. According to the "Asia-Plus" because of diabetes on his body appeared not healing boils, so the last few days in bed Imomnazarov.
Many say that after the killing in Khorog change their minds to surrender their weapons .