[SEE:  Oil heads for $36 a barrel amid world glut fears ; This One Suit Could Take Down Oklahoma's Oil And Gas Industry ]

Summary
OPEC's greatest competitor is now OPEC.
The real reason OPEC oil production levels will remain high.
What the market is transitioning into.
Is a real free market oil industry emerging?
There are a lot of variables behind the reason the price of oil has plunged, as producers ramp up production in an attempt to maintain market share.
When Saudi Arabia and OPEC decided to boost production in response to the serious threat of U.S. shale oil, that was the primary impetus behind pushing prices down, in order to put extreme pressure on the quickly-growing shale competitors before they were too big to be dealt with.
As time as passed though, and U.S. producers have been forced to lower production levels and reduce exploration and development spending, a scenario has emerged that has gravitated to OPEC itself.
With Iran about to be released from sanctions, it has aggressively and publicly stated it will take steps to gain back market share it has lost, and will do what's best for the country, which was a reference to ignoring anything Saudi Arabia had to say about it.
This is one of the reasons the latest OPEC meeting was meaningless, as it was already known by those that really follow the industry and understand what's going on, that there was no chance of an agreement being reached on production cuts. It's doubtful it was even a serious part of the conversation, if it was brought up at all.
source: MuslimMirror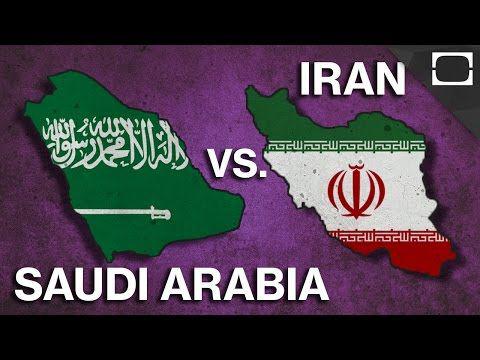 OPEC against OPEC
It has been spun by some in the financial media that OPEC has decided to go the free market route and let the chips fall where they may. That shouldn't be taken seriously. If there was a chance of OPEC retaining its former monopoly and control of the oil market it would do so. With the introduction of U.S. shale, those days are forever over.
The reason it has "allowed" market forces to determine prices, beyond the questionable market share reason, is in order to save face and maintain the perception OPEC is the force to be reckoned with it used to be.
Not only is that not true, but the new market realities are causing further fracturing within OPEC itself; more than it has been in the past.
OPEC is no longer competing primarily against non-OPEC producers, it is increasingly competing against member states. It's why its weaker members' calls for production cuts go unheeded, and are not even taken into consideration by the larger producers.
To some degree this has always been the case, but it has been taken much further now, with no real attempt to hide the fact there is no way the cartel can reach an agreement on production cuts. For that reason it decided to not mention a production cap at all. I believe that's because this is so obvious it would look foolish to even pretend there was a flexible cap in place, as there has been in the past.
The most obvious tear in OPEC relations is between the smaller and larger producers, with the smaller producers like Algeria and Venezuela pressing hard for production cuts in order to support the price of oil. This is disregarded with a wave of the hand because they really have little or no influence on the cartel. They don't have the ability to raise production to levels that would sway the major producers, so are for the most part, ignored.
Libya, and to a lesser extent, Indonesia, will also have an impact on the market in 2016, with Libya looking to recover from its unrest and generate revenue. Indonesia, a smaller player, is once again a part of OPEC, and room will have to be made for its production as well. Taken together, it presents a picture which defies the ability and desire of the member states to agree to a production cap for the organization.
Where the major issue lies is with Saudi Arabia and Iran, with Iraq, at least on the actual issue of oil output, being a major rival, and whose production does have an influence on the market.
Saudi Arabia and Iran
One thing a not of investors are looking at in regard to oil is the tensions between Iran and Saudi Arabia. Not only is this in reference to oil production, but also to the wars in Syria and Yemen.
First concerning oil. Iran has openly and defiantly told Saudi Arabia and the rest of OPEC it has no intention of keeping production levels where they want them. It will fight for market share, and it's making inroads with China, where it has already secured deals for over 500,000 barrels per day, starting in 2016. It will without a doubt win more business going forward.
This isn't only connected to the market, but has direct implications in the wars mentioned above, with Iran supporting and backing the Houthi against troops led by Saudi Arabia in Yemen. Iran also has interests in Syria and Iraq. There can be no doubt Iran's desire to quickly ramp up production once nuclear-related sanctions are removed, can be traced in part to underwriting some of the military operations is supports.
At the market level, it means winning back its market share, which at minimum should add up to 1 million barrel per day to global oil supply. I don't see anything that will change that on the production side.
Beyond the obvious increase in oil output and supply, is the fact OPEC may be as weak as it has ever been since it was formed in 1960.
To underscore the reality, Nigerian oil minister Emmanuel Ibe Kachikwu said at the last OPEC meeting they "spent two minutes on that issue," adding, "You can't stop a sovereign country from coming back to the market. So, debating it is irrelevant."
That's a polite way of saying the topic was too hot to handle, and the so-called decision to leave no cap on production levels was a foregone conclusion before the meeting ever started.
Where the oil market is headed
Taking into account the internal conflicts of OPEC, there is no chance there will be some type of agreement to lower production anytime soon. Those believing or hoping for that to happen are going to be disappointed, and oil producers making decisions based upon that faulty conclusion will experience more pain in 2016, and probably 2017 as well.
The working assumption is the current price of oil isn't sustainable, and yet there is nothing visible in the market to be optimistic about in regard to competitors agreeing to lower production. It's simply not going to happen in the near future.
That means there will be a long-term period of time where supply is going to easily exceed demand, even while oil demand increases some. With no one ready to cut back on production for the purpose of supporting the price of oil, it means competitors will continue to crank out oil at high levels. For that reason the price of oil will remain subdued and continue to fall.
Wherever this all ends, the market will no longer be what it was when U.S. shale oil became a major global producer, and OPEC responded by fighting to keep production levels high; to not primarily maintain market share as most think, but to buy time to adjust to the new market where it will be impossible to retain the market share it enjoyed in the past.
That means it'll have to find ways to cut its budget and lower future spending.
Conclusion
The idea the reason for production levels being kept high was in order to allow the market to determine the results, is a misguided conclusion. While it is happening at this time, it wasn't the impetus being the decision.
New competition from U.S. shale producers was the initial catalyst, followed by other competitors, especially within OPEC, continuing to keep output high.
My belief is all of OPEC is struggling to keep budgets they had in the past from shrinking too fast. The larger producers, specifically Saudi Arabia, Iran and Iraq, have to try to slow the pace in order to keep their people from getting disgruntled, which can quickly lead to unrest in the region.
To do this they must battle one another for market share and longevity in order to finance domestic projects and fulfill promises, but to also wage wars and strengthen defenses against their regional enemies; including against themselves.
Russia, the U.S. and other competitors remain in play, but the addition of oil from sources outside traditional channels has revealed the weakness of OPEC, causing more competition between member states than ever before,
Under these conditions, the idea of oil producers coming together to agree on production cuts is close to zero. The price of oil will remain low, while OPEC, for all practical purposes, has ceased to exist as a group of cooperative states.