Russian President Vladimir Putin and Greek Prime Minister Alexis Tsipras (R) attend a news conference, after their meeting at the Maximos Mansion in Athens on 27 May 2016. © Orestis Panagiotou / Reuters
During a visit to Greece intended to repair ties with the EU, Vladimir Putin said that Russia has "no choice" but to target Romania, which has recently opened a NATO missile defense base, and Poland, which plans to do so within two years.
"If yesterday people simply did not know what it means to be in the crosshairs in those areas of Romania, then today we will be forced to carry out certain measures to ensure our security. And it will be the same with Poland," Putin said during a joint press conference with Greek Prime Minister Alexis Tsipras in Athens on Friday.
The Russian President was referring to the Deveselu facility that officially became operational in May after nearly a decade and $800 million of planning and construction.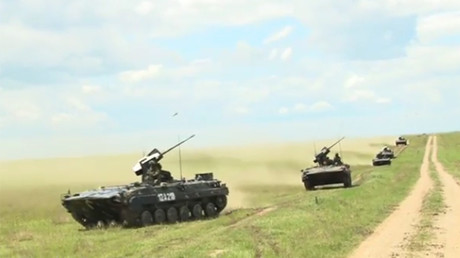 "At the moment the interceptor missiles installed have a range of 500 kilometers, soon this will go up to 1000 kilometers, and worse than that, they can be rearmed with 2400km-range offensive missiles even today, and it can be done by simply switching the software, so that even the Romanians themselves won't know," said Putin, who is in Greece for a two-day tour.
"We have the capability to respond. The whole world saw what our medium-range sea-based missiles are capable of [in Syria]. But we violate no agreements. And our ground-based Iskander missiles have also proven themselves as superb," continued Putin.
Russia's political and military leadership has repeatedly spoken out against the missile defense shield since it was proposed during the George W. Bush administration, and Putin reiterated that Moscow does not believe the European part of it is targeted against a potential threat from Iran.
"NATO fend us off with vague statements that this is no threat to Russia… That the whole project began as a preventive measure against Iran's nuclear program. Where is that program now? It doesn't exist," said Putin, referring to the nuclear treaty that was concluded between the world's major powers and Tehran last year. "We have been saying since the early 2000s that we will have to react somehow to your moves to undermine international security. No one is listening to us."