[Pakistan defence minister Khawaja Muhammad Asif threatens to unleash nukes against India]
India's rupee and bonds extended losses, while local stocks plunged after the nation said it attacked terrorist camps in Pakistan.
The currency weakened 0.6 percent, the most since June, to 66.8575 per dollar as of 2:08 p.m. in Mumbai. The main S&P BSE Sensex dropped 1.4 percent, paring an earlier loss of 2 percent. The yield on sovereign notes due September 2026 surged 7 basis points to 6.85 percent, set for the biggest jump for a benchmark 10-year security since August 2015. The central bank was seen selling dollars through state-run banks to stem the rupee's decline, traders said.
India carried out the surgical strikes on Wednesday night, Director General of Military Operations Ranbir Singh said in New Delhi. There are no plans to continue operations, he added.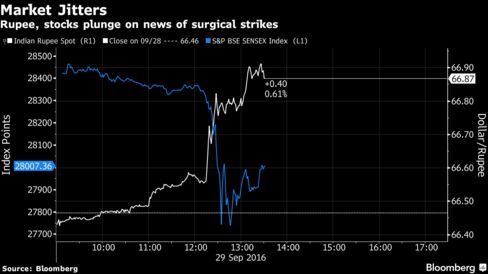 "This is negative for the economy," said Ashtosh Raina, Mumbai-based head of foreign-exchange trading at HDFC Bank Ltd. "Any strike, any tension across the border is definitely going to hurt sentiment."
Escalating tensions between the two nuclear-armed neighbors could sour sentiment for foreign investors who have pumped the most money into Indian stocks and bonds this quarter since March 2015. India's attack follows a deadly assault on an Indian army camp that Prime Minister Narendra Modi's administration blames on Pakistan, whose leaders have denied involvement. The nations have fought three wars since they split from each other in 1947.
Some fund managers see the equity declines as an opportunity.
"India's political risk as an investment destination may go up slightly," Sunil Subramaniam, chief executive officer at Sundaram Asset Management Co., which oversees the equivalent of $3.7 billion, said by phone from Mumbai. "It's a good time to use the declines to buy stocks linked to the economy as strikes by India don't alter the economic outlook."
Heavy casualties were inflicted on militants assembled to infiltrate into India, Singh said at a news conference. Pakistan's KSE100 Index erased a gain of as much as 1.3 percent and was trading 0.2 percent lower. The notion of a surgical strike linked to alleged terrorists bases is an illusion being deliberately generated by India to create false effects, Pakistan's military said in a statement Thursday.
Kargil War
The last major conflict between the two countries occurred when Pakistani troops invaded Kargil, in the northern Indian state of Jammu and Kashmir in late May 1999, only to withdraw in mid-July. India launched air strikes on May 27 that year to flush out the rebels, causing the Sensex to tumble 2.8 percent on the day.
Even so, the equity gauge rallied for three months through August as the government took steps to boost investments and spurred tax collections to help overcome the additional costs borne due to the conflict. The measure's 64 percent jump in 1999 was its biggest since 1991.
"If there is a full blown war, it may be problematic in the near term, but a small strike should not be a big worry for the markets," Sampath Reddy, chief investment officer at Bajaj Allianz Life Insurance Co., which has about $6.5 billion in assets, said by phone.