Gasoline in New York jumped the most in almost eight years and its premium to crude prices soared 60 percent after an explosion and fire in Alabama shut the largest fuel pipeline in the U.S., killing one person and injuring more.
December-delivery gasoline rose as much as 15 percent to the highest level for a front-month contract since June after Colonial Pipeline Co., which carries oil products to New York Harbor from the U.S. refining center in Houston, shut mainlines on the pipe for the second time in two months. The fuel's premium to Brent crude, a theoretical profit margin for many refiners, jumped to as high as $18 a barrel.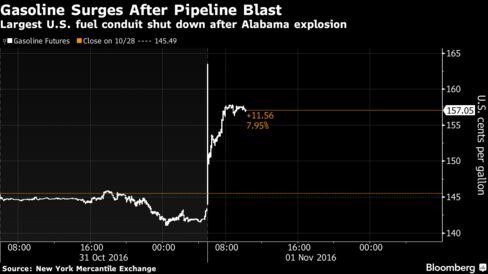 The explosion, which killed one person and hospitalized five, occurred while contractors were working in an area that's home to a "complex series of pipelines," Shelby County Sheriff's Office Major Ken Burchfield said by phone. Major fuel suppliers began notifying wholesalers in South Carolina late Monday of allocations. A spill in September closed the Colonial pipeline for 12 days, cutting supplies to 50 million Americans in the Southeast.
The southeastern U.S. is "highly dependent on pipeline supplies from Colonial, and, ultimately, Colonial flows form the baseline of U.S. East Coast supply," Robert Campbell, head of oil products research at Energy Aspects Ltd. in New York, said in a note. The longer the mainlines are offline, "the more upward pressure will be placed on U.S. East Coast fuel prices, while downward pressure will be exerted on U.S. Gulf Coast product prices."
Gasoline for December delivery rose as much as 21.56 cents to $1.6351 a gallon in intraday trading on the New York Mercantile Exchange. The contract traded at $1.605 at 4:36 p.m. in Singapore. The 15 percent intraday gain is the largest for the active contract since Dec. 31, 2008, according to data compiled by Bloomberg.
Gasoline's premium to Brent crude traded 30.5 percent higher at $14.77 a barrel after surging even higher earlier. The difference between December and January gasoline futures shot up as much as 4,200 percent from 0.23 cent to a high of 9.9 cents a gallon.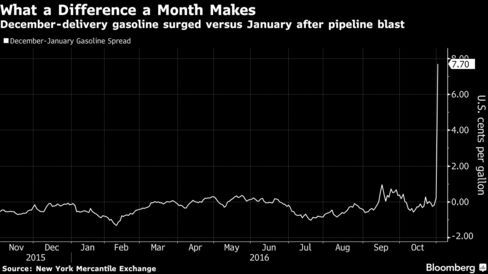 Several major U.S. refiners gained in after-market trading as the premium jumped. Phillips 66, which operates a refinery near New York City, advanced 1.7 percent to $82.50 on the New York Stock Exchange after closing at $81.15 a share Monday. Valero Energy Corp. and Marathon Petroleum Corp. also rose.
Alabama Governor Robert Bentley said in a tweet that the incident in Shelby County on Monday was about a mile west of the Sept. 9 incident. Colonial had planned to remove between late-October and mid-November a temporary bypass pipeline that was built around the site of the earlier spill.
Colonial — and to a lesser extent the smaller Plantation Pipe Line Co. — play a key role in supplying the U.S. Southeast because there aren't any refineries between Alabama and Pennsylvania that produce substantial quantities of transportation fuels. The region is supplied primarily by pipeline flows from refineries along the U.S. Gulf Coast, according to the U.S. Energy Information Administration.
While Colonial has a capacity of 2.6 million barrels a day of refined products, the Plantation pipeline carries just 700,000 barrels a day.