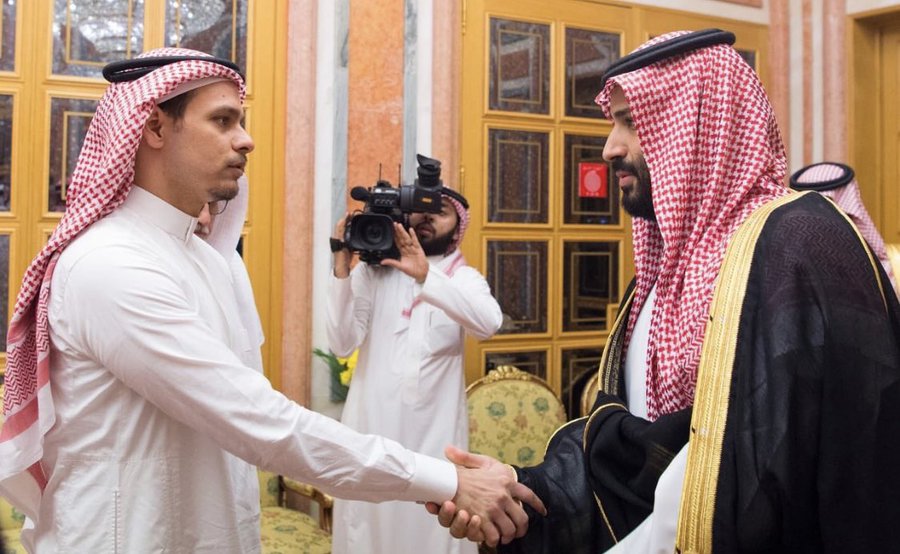 Jamal Khashoggi's Son Forced To Meet Saudi King and Crown Prince For Photo-Op Whitewash
[Jamal Khashoggi's sons are obviously being forced into dispensing Riyadh's propaganda line in the photo below…the same look that Salah Khashoggi had on his face in the previous forced photo-op with the mad, young prince.]
By Hasan Al-Najrani
Okaz/Saudi Gazette
MADINAH — The statements of the sons of the late Saudi journalist Jamal Khashoggi emphasize unequivocally the trust that they reposed in Custodian of the Two Holy Mosques King Salman who promised to investigate and hold accountable those who were behind the killing of their father.
During their interview with CNN, Salah and Abdullah, Jamal Khashoggi's sons, stressed patriotism of citizens and their solidarity with the leadership.
They rejected attempts by some parties to politically exploit their father's death and expressed displeasure at lies being fabricated to harm Saudi Arabia and its leadership.
Their statements have now left no rooms for spreading gossips to the effect that they had left their homeland out of anger following the murder of their father.
Since Salah decided to travel to the United States, leftist newspapers, US Democrats, the Qatari and Turkish media, and their sympathizers have involved in circulating false news that this is a sign of Salah's dissidence and departure from the mainstream. But they have eloquently exposed the lies and the media smear campaign.
Meanwhile, Saudi Arabia told the United Nations on Monday it would prosecute those responsible for the killing of journalist Jamal Khashoggi, and defended its human rights record.
Bandar Al-Aiban, President of the Human Rights Commission of Saudi Arabia who headed the government delegation at the Universal Periodic Review, said that Custodian of the Two Holy Mosques King Salman had instructed the Saudi public prosecutor to "proceed with the investigation into this case according to the applicable laws and preparation to reaching all facts and bringing all the perpetrators to justice".