Painting by Anthony Freda
"False flag terrorism" occurs when elements within a government stage a secret operation whereby government forces pretend to be a targeted enemy while attacking their own forces or people. The attack is then falsely blamed on the enemy in order to justify going to war against that enemy.

"Gladio was set up after WWII as a clandestine group of operatives that were to be activated in the event of a Soviet invasion of Europe. Their plan quickly evolved into a program of political repression and manipulation directed by NATO and the CIA. What could go wrong? For decades Gladio carried out widespread terrorist attacks, assassinations and electoral subversion in democratic states such as Italy, France and West Germany, but were portrayed to the public as Communist or Left Wing terror attacks. Thanks to corrupt media disinformation and lies, the facts of this operation have been kept hidden from the public."– Operation Gladio And The False Flag Muslim Terror Hoax
[Pentagon/CIA Repackages Afghan Govt. Terrorist Force As "The Renouncers"–(updated) ; NYT Highlights Taliban Split and Afghan Govt Sponsorship of Mullah Rasoul Faction–(updated) ]
LASHKAR GAH, Afghanistan — A white unmarked Toyota pickup truck carries 10 armed young fighters to a frontline. All are dressed like Taliban fighters, with most wearing black or dark green khet partug — a long loose tunic and baggy pants. All are wearing the distinctive black or white turbans preferred by the Taliban.
They, however, are not Taliban. As members of a secretive Afghan government militia, their mission on a cold February morning is to infiltrate groups of insurgent fighters along a tense frontline in the restive southern province of Helmand.
As they speed along a twisting rural road past fields, orchards, and clusters of mud houses, only one of them agrees to briefly talk.
He requests not to be identified by name because the Taliban are actively pursuing and targeting members of the force, which is locally called Sangorian.
"We are proud of what we are doing. We turn insurgent tactics against them and fight them in the same civilian dress they wear," he told Radio Free Afghanistan. "My only regret is that we sometimes scare civilians because they mistake us for the insurgents."
Sangorian, named after a Turkish television soap opera about undercover operatives, claims credit for defeating Taliban attempts to overrun Helmand's capital, Lashkar Gah. The insurgents virtually besieged it for months in 2016.
Estimated to now number between 500 and 1,000 fighters, the militia was created alongside the Bost Unit by the Afghan secret service, the Directorate of National Security.
"We have always inflicted harm on the enemy. We have killed their fighters and captured their weapons and ammunition," the Sangorian member said. "This is why the enemy is keen to retaliate. They often use heavy weapons to attack our units."
The Taliban killed at least 16 Sangorian members in an attack on a check post in Helmand's Gereshk town on February 10. "Three of our brothers turned their guns on militia members after infiltrating one of their important camps," a Taliban statement said.
Communist-era former general turned lawmaker Abdul Jabbar Qahraman is all praise for Sangorian. As Afghan President Ashraf Ghani's operational commander for Afghan forces in Helmand two years ago, he reportedly oversaw the formation of Sangorian.
"They were so successful that our enemies began to fight among themselves," he told Radio Free Afghanistan. "Their sabotage within the enemy ranks prompted many Taliban commanders to mistrust each other so much that they began to surround themselves with bodyguards to prevent possible attacks from rivals."
After the drawdown of most international troops by the end of 2014, the Taliban scored major territorial gains in Helmand, Afghanistan's largest province, strategically located near Iran and bordering Pakistan. By early 2016, the insurgents controlled or contested 12 of the region's 14 districts and were threatening to overrun the entire province by besieging Lashkar Gah. The city of an estimated 300,000 residents is home to important government departments and major military encampments.
Qahraman says it was Sangorian's operations behind insurgent lines in the strongholds of Sangin and Musa Qala districts that prevented the Taliban from overrunning the provincial capital.
"As a former army general, I can tell you confidently that they played a major role in preventing the fall of Lashkar Gah to the enemy," he said.
Not everyone in Lashkar Gah, however, is happy about Sangorian's success. Some residents whisper of alleged abuses by the militia — claims the authorities reject, saying they have received no formal complaints of misconduct.
During nearly 40 years of war, Helmand's residents have repeatedly seen government militias turn into marauding thugs. Civilians and politicians are now worried Sangorian will follow the same path.
Lawmaker Attaullah Afghan leads Helmand's provincial council. He says that after performing their main task of preventing the fall of Lashkar Gah, Sangorian members no longer need to to work undercover.
"The people of Helmand now want Sangorian and other similar groups to wear the uniform of forces commanded by the Directorate of National Security," he told Radio Free Afghanistan.
Omar Zhwak, the spokesman for Helmand's governor, says the government is already working on such a plan.
"We are working on building them up in terms of education, discipline, and equipment to bring them on par with other forces," he told Radio Free Afghanistan. "They have proved very useful."
Abubakar Siddique wrote this story based on Radio Free Afghanistan correspondent Mohammad Ilyas Dayee's reporting from Lashkar Gah, Helmand.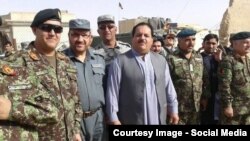 Helmand's security chief Abdul Jabar Qahraman (C) surrounded by police and army officers.
Afghanistan's main intelligence agency has initiated a secretive unit in southern Helmand Province with the aim of taking advantage of divisions within the Taliban movement.
According to government officials, the goal is to weaken the increasing threat posed by the insurgency by using the Taliban's own tactics. The militants have boasted of placing agents among security forces to carry out so-called insider attacks.
The initiative comes at a time when fledgling Afghan forces are struggling to stop the Taliban from taking over large swathes of Helmand and other areas across the country.
Abdul Jabbar Qahraman, President Ashraf Ghani's special envoy for security affairs in the southern province, gave confirmation of the existence of the unit, whose members wear no uniform, but he declined to elaborate.
"The idea for the creation of the new contingent, which dresses like local Helmandis, was mine," said the official, a former commander who fought for the Soviet-backed government in southern Afghanistan in the 1980s.
Helmand police chief Abdul Rahman Sarjang said the 300-strong unit, created and equipped by the National Directorate of Security (NDS), had conducted several operations and has so far proved a success.
The NDS headquarters in Kabul did not respond to several requests for comment, although an official — who declined to be identified — at the agency in Helmand confirmed the unit's existence and the broad outlines of how it operates.
The Taliban themselves have confirmed the unit's existence but dismissed claims that it was successful in exploiting internal divisions, calling such suggestions "propaganda."
"It is true that this contingent exists and operates mysteriously in some parts of Helmand," said Qari Yousuf Ahmadi, the Taliban's main spokesman in southern Afghanistan. "We have very strong intelligence and find those who want to infiltrate our ranks."
The NDS unit further complicates the situation in Helmand, a traditional stronghold of the Taliban and the center of the opium trade. In addition the insurgency, Helmand is a web of tribal and factional conflicts.
Deceit and double-cross have become commonplace in Helmand, and government forces are often the victim. In January, four rogue policemen killed nine comrades and stole their weapons before deserting to join the insurgents.
Afghan and NATO officials have frequently spoken of the difficulties faced by the Afghan National Army — a largely Dari-speaking force relying heavily on recruits from northern Afghanistan — in operating in Pashto-speaking Helmand.
One provincial official said the unit operates in Musa Qala and Nawzad, two central districts that government forces abandoned in February, as well as Marjah and Nad Ali, where the government maintains only tenuous control.
"Now the Taliban do not believe each other. They believe their colleagues may be infiltrated by the Afghan intelligence agency," he said.
Despite a relative lull in recent weeks allegedly due to the annual opium harvest, Helmand has witnessed months of heavy fighting. Government forces have been forced to abandon several districts and regroup around the provincial capital, Lashkar Gah.
But the unit's reported successes have come at a price, according to local officials.
"It is a very good achievement by the Afghan government and has created splits within the Taliban," said Attaullah Afghan, a member of Helmand's provincial council. But, he said, officials have received dozens of complaints from residents in districts like Nawzad and Khanishin.
"The Taliban are abusing ordinary people and even arresting some of them as spies for the Afghan government," he said.
According to local sources, a battle between rival Taliban fighters in the Nad Ali and Marjah districts that killed as many as 30 fighters on May 8 was set off by the special NDS unit.
They said members of the unit attacked a checkpoint manned by insurgents loyal to Taliban leader Mullah Akhtar Mohammad Mansour, creating the impression that they were on the side of Mansour's main rival, Mullah Mohammad Rasul.
The Taliban denied the fighting was between rival factions but did cite "bandits newly armed by Jabbar Qahraman."
"There is currently no fighting in the area, and the entire region has been cleansed of these newly formed bandits," Ahmadi said in a statement.
With reporting by Mohammad Stanekzai for Reuters