[Germany, like most Western Nations, is hung upon the hooks of its own Islamist policies, stuck somewhere between open sponsorship of terrorists and participation in anti-terrorist coalitions.  Using Islamists as proxies in Russia, the Caucasus, or the Middle East is foolish, even if it is good for business (SEE:  America's "Islamists" Go Where Oilmen Fear to Tread).  At some point, Western sponsors must disassociate themselves from the terrorist Islamists, in order to participate in global power-sharing anti-terrorist coalitions.  The Islamist war veterans cast away by the West, after they have outlived their usefulness, expect government help in their old age…in fact, judging from 9/11, they demand it.]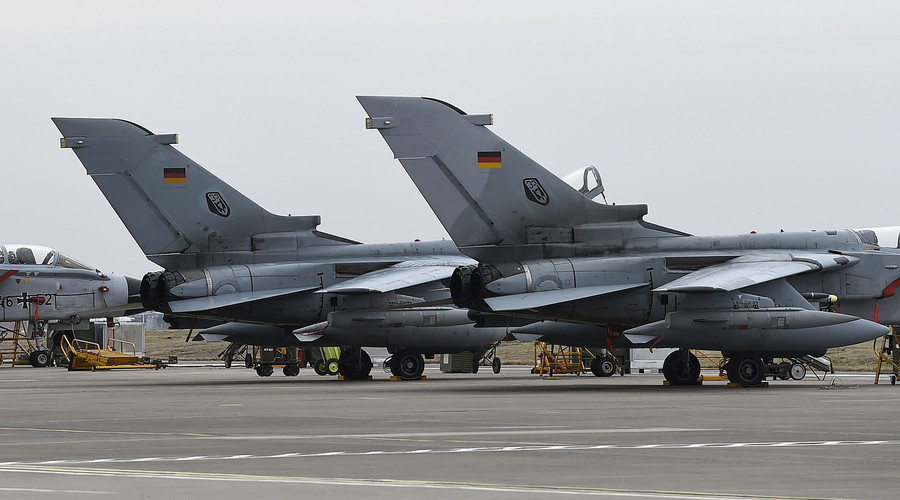 Ankara is reportedly hampering Berlin's efforts to build facilities at the Incirlik NATO airbase, which is key for 240 German airmen and six jets deployed there in the US-led anti-ISIS coalition. It's another blow to strained ties between two countries.
Construction work was expected to be completed by the end of 2016, but the project has now been put on hold due to Turkey's unwillingness to green-light the project, Die Welt reported, citing the German government's response to a written request for information filed by Agnieszka Brugger, a Green Party MP.
The facilities in question include a separate airfield, hangars and aprons for six German Tornado reconnaissance jets stationed at the NATO Incirlik airbase, as well as a mobile command center and barracks for the personnel maintaining the aircraft.
In September, Spiegel magazine revealed the German government's plans to allocate €58 million ($65 million) to construct and renovate military facilities used by Germany's air force contingent deployed at NATO Incirlik base in Turkey.
The German government's response stated that a bilateral protocol on developing infrastructure at Incirlik has not yet been signed by Ankara, and "internal procedures to approve signing [the protocol] are still on the Turkish side."
It also added that the construction work had been due to begin in the first half of 2016, but nothing had happened so far.
Meanwhile, accommodation facilities used by German airmen are said to be in poor condition. Some of the barracks have been attacked by mold, while others have no air conditioning, according to Die Welt, which cited testimonies of German MPs who were allowed to visit the base in early October.
"It gets more than irritating that the Turkish government has not yet approved the construction, and the federal government lets it carry on this way," Brugger, a Green Party representative in the parliamentary defense committee, told the newspaper.
The German Defense Ministry, however, dismissed the allegations, telling Die Welt in a statement: "It is not assumed that the Turkish side is in principle opposed to the signing [of the protocol] and, consequently, to relocation of the German forces' base," as cited by Die Welt.
Incirlik airbase, located in a strategically important part of the Mediterranean shore, has been commonly used by Turkish and NATO air forces for decades. It is now playing a key role in the Western-led coalition's airstrikes against Islamic State (IS, formerly ISIS/ISIL), being operated by the US, German and other allied aircraft.
The use of the facility by the German military is also one of the stumbling blocks in Ankara-Berlin relations, which have significantly deteriorated over recent months.
After the German parliament passed a resolution referring to the 1915 massacre of Armenians by Ottoman forces as genocide, Ankara immediately responded with a number of hardline measures, including a ban on German MPs visiting Incirlik.
READ MORE: 'You're aiding terror!' Erdogan slams Germany after Merkel's critical comments
Ankara has also threatened to derail bilateral ties if Berlin does not change course. Notably, Turkey allowed access to Incirlik following the German government's recent statement on the Armenian genocide resolution, which it declared was non-binding.
However, the rift between Ankara and Berlin seems to be widening further as both sides exchange angry outbursts. Recently, Turkish President Recep Tayip Erdogan accused Germany of "harboring terror," meaning opposition Kurdish and Gulenist political figures.
In turn, German Foreign Minister Frank-Walter Steinmeier has expressed his dismay, saying he "cannot comprehend the comments made by Erdogan about the security situation in Germany," according to Deutsche Welle.